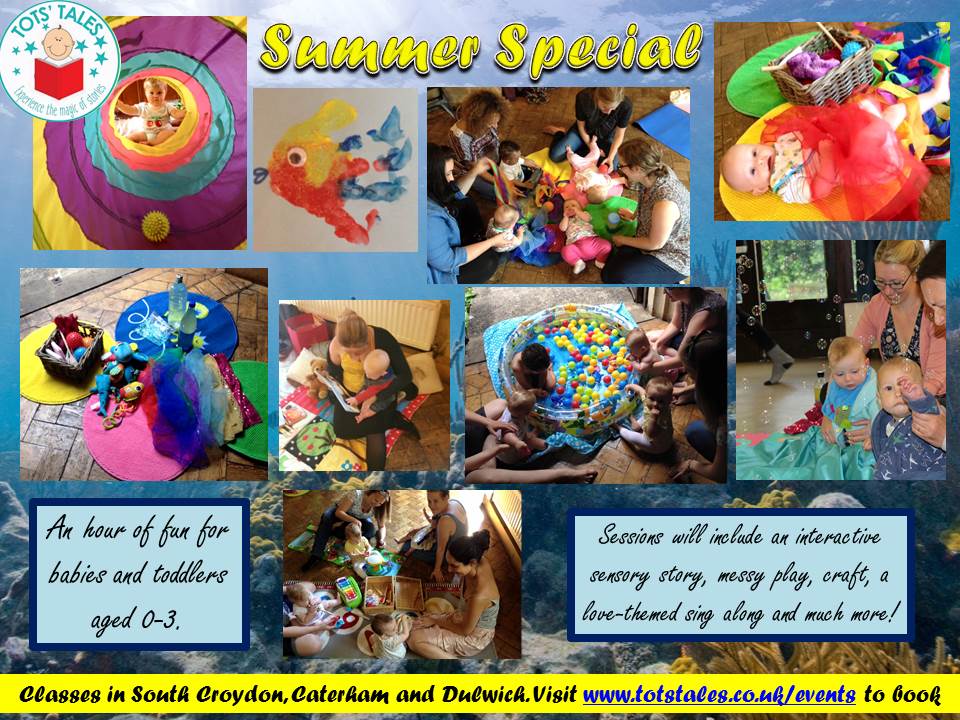 A seaside-themed event for babies and toddlers aged 0-3 years.
Sessions last one hour and begin with a themed sensory story, brought to life with props and more.
We will then have time for sensory and messy play and craft activities with artwork to take home as a keepsake.
The session will then finish with a song time, linked to our Summer theme.
---
The price for one child ticket is £8. We offer a reduced price for siblings of £6 per ticket.
Spaces are limited so purchase your ticket early to avoid disappointment!

Session sold out? Join our waiting list!
If the session that you were hoping to attend has sold out, please leave your email address below to join our waiting list- you will be contacted in the event of cancellations.

---
Complete the form below to book your ticket.
Session times/ dates are as follows:
Tuesday 1st August 2017, 9.15-10.15am @ Caterham Children's Centre, The Old Naafi Building, Weston Drive, CATERHAM

Tuesday 1st August 2017, 10.30-11.30am @ Caterham Children's Centre, The Old Naafi Building, Weston Drive, CATERHAM

Tuesday 1st August 2017, 2.15-3.15pm @ The Herne Tavern, Forest Hill Road, DULWICH

ONLY A FEW SPACES LEFT!

Thursday 3rd August 2017, 9.30-10.30am @ St Augustines Church, St Augustines Avenue, SOUTH CROYDON

ONLY ONE SPACE LEFT!

Thursday 3rd August 2017, 10.45-11.45am @ St Augustines Church, St Augustines Avenue, SOUTH CROYDON